Rio Celeste: Where God Cleans his Brushes
In the middle of a green Paradise, there is a turquoise river that makes us dream of the sky. Only four hours from San José, in the Tenorio Volcano National Park, is Celeste River, the seventh natural wonder of Costa Rica!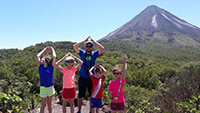 Rio Celeste, its waterfall and Los Teñideros are the main attractions of the destination. Within the park there are more treasures: hot springs, panoramic views, nature trails, wildlife watching. With a little luck, you can see monkeys, guatusas, tolomucos, turkeys and the impressive dantas.
This paradise has a trail of 3.5 kilometers that allows the tourist to get in touch with nature. There are two key points on the tour:
The first of these is the waterfall, where the jets of water crash furiously against the turquoise water, generating a spectacle. The waterfall can only be admired from the outside, since it is forbidden for tourists to bathe in it.
The second point is called Los Teñideros. There, the river adopts its turquoise tone.
Tubing in Celeste River
If you are looking for fun and 100% entertainment, you have to do the Tubing in Río Celeste. Descend for the magical turquoise waters of Rio Celeste through the technique of tubing. An ideal activity for adults and children (minimum height 120 cm and 12 years of age or older), who seek to feel the adrenaline and also take a refreshing dip in the waters of this mythical river!
Horseback Riding by the Tenorio
Take a ride on horseback through an area of cattle pastures and primary forest, where you can observe many birds and see the monkeys! As you tour around Volcano Tenorio, you get to explore the natural beauty of the region. Experienced guides will give you instructions as they accompany you throughout the tour, so that you can enjoy wonderful landscapes and views of our tropical forest.
---