Karen Mogensen Wildlife Reserve
Enjoy a naturalistic adventure through the Karen Mogensen Wildlife Reserve
The Karen Mogensen Wildlife Reserve is located in the territory of Nicoya Peninsula. There are 900 hectares of protected forest, in San Ramón de Arío (15 km from Jicaral). You must travel sixty minutes between the forest to reach the lodge with trails, viewpoints and natural pools in the spectacular Velo de la Novia Waterfall region. The lodge offers accommodations in wooden bungalows with private bathrooms. There is a large terrace overlooking the forest as well! In addition, incredible species of animals such as ocelots, jaguars, pumas and others felines make the forest their home. You may also see an abundance of birds and butterflies in the area!
Practice Rural Tourism in the Karen Mogensen
Around the Karen Mogensen Nature Reserve, you can enjoy rural tourism! Because of its location within the mountains, life in these areas are lived to the fullest. The type of accommodations make this place a family paradise offering a quality service, sometimes by the owners themselves. Among the activities that can be done in this type of environment are agrotourism, ecotourism and wine tourism. You can also enjoy the historical-cultural wealth of the area in harmony with the environment.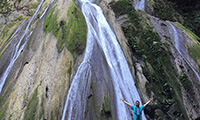 Catarata Velo de Novia
After a walk among the rainforest, you will arrive at one of the most beautiful waterfalls in the country, Velo de Novia Waterfall! Its small tributaries, which are born in the mountains of the reserve, give life to a beautiful 83 meter high waterfall! You can swim between its pure and natural pools.
Help Us to Reforest the Rainforest
Before being declared a protected area, the lands of the Karen Mogensen Reserve were paddocks affected by deforestation and intensive livestock farming. With the help of volunteers, people from the community and visitors, this region has been reforested and became a beautiful reserve. Due to this reforestation program, the tropical forest is now in transitioned into a humid rainforest! This area has a diverse amount of flora and fauna, many of which are in danger of extinction. With your help, it will be possible to unite part of the peninsula corridor, which links important areas such as the Cabo Blanco Reserves together . Many species that inhabit its forests will be able to expand its territory due to the reforestation effort.
---