Tortuguero
Natural Jungle and Canals
Considered one of the richest places in flora and fauna of the country. This exuberant, paradisiacal and mystical site is located in the northern Caribbean region, in the province of Limón. It has an approximate area of 18,946.9 hectares in the terrestrial section and 52,265 in the marine section.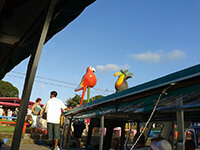 The Tortuguero National Park is crossed by a natural set of lagoons and navigable canals of great beauty! This is great habitat to see species of terrestrial turtles, manatees, crocodiles, a great diversity of crustaceans and about fifty-two species of freshwater fish, including gaspar fish.
Sea Turtle Sanctuary
Tortuguero is one of the most important places for the sighting of sea turtles! Mainly for the Lora, Leatherback and Hawksbill turtles that spawn in the región and lay their eggs on the beach. The turtle watching season corresponds to the spawning season, the month of sightings may vary due to individual species.
Kayak Tour through the Tortuguero Canals
One of the most exciting and unforgettable activities is the kayak tour through the canals of Tortuguero! A true labyrinth within the rainforest, the Tortuguero Canals have a natural system of endless waters, surrounded by tropical rainforests, full of flora and fauna. With the help of your professional guide you can discover the mysteries of this magical place.
---